Writing Samples
A collection of published articles written blog-style covering
music, entertainment, marketing tactics, and fashion.
Songfinch – The Birthday Gift Guide for Music Lovers
Juggalos love their Faygo, fans of Macklemore are fans of Good Will, and Bassheads rep bro tanks.
Stereotypes abound for every type of music fan. While few (if any) are true all the time, a person's taste in music tells you quite a bit about their likes and dislikes. It's one of the best ways to sneak a peek into the deepest corners of their hearts … other than performing surgery, of course.
Continue reading article here.
*Graphic designed by Rachel Colonna
Songfinch – ARTIST SPOTLIGHT: John Gardner
With a voice as pure as his lyrics are deliberate, John Gardner, known as Common Jack, is defining an edgier side to folk.

This Manhattan-based artist made his debut in 2015 with Bowl, Holland, a singer-songwriter/folk album riddled with the tickling of acoustic guitars and fiddles. His 2016 release of the album Strange New State made it clear that Common Jack was welcoming an upgraded sound that grew in stride with his personal life. And in the midst of this nearly reinventive musical breakthrough, Gardner's fans are welcoming the rock-infused power sprinkled with the lightness of pop that is becoming signature to his sound.
Social Media Beast –Tie the Knot with Chicago Trolley
The cake has been delivered, the flowers have been delicately placed, and your loved ones are gathering to celebrate you and the love of your life. It's your wedding day, and all that's left to do is a) actually get married and b) let an elegant Chicago Trolley carry you from place to place. Classically ornate and designed around your needs, our wedding trolley rentals are there to be your magical steed for the big day. Here is why you can't let this opportunity drive by:
Social Media Beast – BECOMING AN INSTAGRAM GURU: 4 Ways Fitness Accounts Find Success
Since its inception in 2010, Instagram has become a world comprised of 80 million posts each day racking in 3.5 billion likes per day. In fact, 30% of people that use the internet at all have accounts and 60% of those users log on daily. Needless to say, it's a pretty powerful and popular network.
Public Relations Student Society of America – #PRSASCC Information Overload
The time on my phone switched from 6:59 a.m. to 7 a.m. right as the elevator doors opened to the 16th floor of Lewis Towers. A sweet woman by the name of Judy Voss, the event's coordinator and PRSA Director of Professional Development, assigned me to check in registrants. For the next two hours, I found myself greeting professionals somehow linked to the PR world, all ready for the Strategic Collaboration Conference. I had no idea about the wealth of knowledge and experience I was about to tap into.
Continue reading article here.
CollegeFashionista – ALL IN THE DETAILS: The Stacked Camel
Here we are, my friends, in the midst of another face-numbing, tear tugging winter in Chibera (Chicago + Siberia). I have already convinced myself that I was designed to withstand the conditions of Hawaii and Hawaii only, and frigidness of this magnitude is not conducive to that. Nonetheless, many have fallen into the all-black routine, myself included, and see no reason to do any different. All-black is reliable, flattering and sharp! Spotting this Fashionisto, however, has inspired me to challenge my dulled tendencies and experiment with color stacking.
Continue reading article here.
*Photographed by Rachel Colonna
CollegeFashionista –STYLE ADVICE OF THE WEEK: Back to School
Personality statements can be made in a multitude of ways this back to school season, even literally on your back! Accessorizing with a RAD backpack can show just the right amount of flair to any walk across campus this semester.
Continue reading article here.
**Featured on front page section, "from the editor"
*Photographed by Rachel Colonna
CollegeFashionista – BEAUTY BAR: Summer Blues And Simple Tattoos
Fashion can be external expression, wearable art. People slip on and zip up what visually appeals to them as an extension of their skin, as an extension of who they are. Many disregard that there is another form of style expression—a more permanent one.
Continue reading article here:https://www.collegefashionista.com/beauty-bar-summer-blues-and-simple-tattoos/
CollegeFashionista – STYLE ADVICE OF THE WEEK: Mighty Metallics
For the past year or so, matte finishes have been on everyone's fashion radar. From matte lipsticks to matte nail polishes, pretty much anything that was once known as shiny was turning over to the opaque side of the stylistic world. But as fashion continues to build upon itself by flipping trends on their heads, muddled mattes are beginning to be replaced by the new mighty metallics.
Continue reading article here.
*Photographed by Rachel Colonna
CollegeFashionista – BEAUTY BAR: Male-polish
Throughout fashion history, women stealing trends from men have been commonplace. In this day and age, that has been seen as okay, because it makes women seem "strong" and "independent." For example, a woman in a leather jacket is seen as edgy. A woman in a suit means business. However, the reverse has not been taken positively. A man wearing a dress would be seen as absurd, and a man wearing makeup would be ridiculed. Gender norms and gender stereotypes have run men's street style fashion, and the fear of coming off as too "feminine" has always been a widespread fear. That is why I am always forever grateful when I spot a Fashionisto unafraid to debunk those gender norms and pioneer his way through what women's fashion can do for him.
Continue reading article here.
*Photographed by Rachel Colonna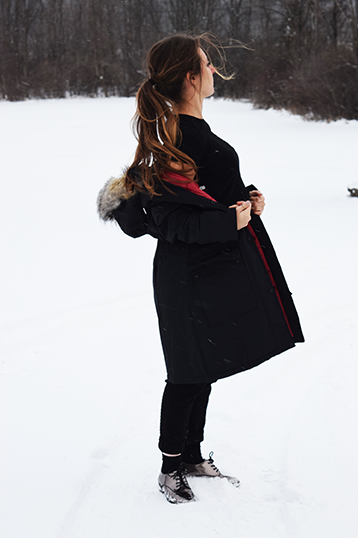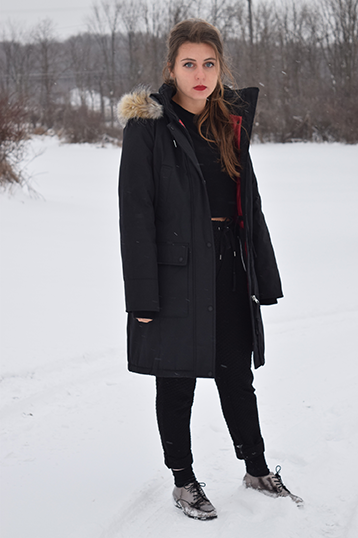 CollegeFashionista – STYLE GURU STYLE: Boisterous Black
If I were to interpret head to toe black on black, I would most likely opt for a chic look with clean lines and sharp statements. Scrolling through Katie Eary's fall 2016 menswear line I was inspired to take black to a, well, fluffier level. Eary's line was peppered with metallic materials, fur and fun textures that echoed a soft edginess that I couldn't get enough of. Each look was simplistic while maintaining distinct detailing that defined the series as a piece of art as a whole. The look that stuck out most to me was look one, a monochromatic black masterpiece that expressed the true volume black can achieve.
Continue reading article here.
**Featured on front page section, "from the editor"
*Styled by Rachel Colonna